Serving Oakland For
40,478 Days
2020 Call Stats
Jan
20
Feb
26
Mar
8
Apr
May
Jun
Jul
Aug
Sep
Oct
Nov
Dec
Total
54
2019 Call Stats
Jan
24
Feb
24
Mar
43
Apr
35
May
24
Jun
27
Jul
42
Aug
33
Sep
26
Oct
33
Nov
41
Dec
38
Total
390
Past Call Stats
2017
365
2018
445
2016
370
2019
390
2015
405
2014
360
2013
296
2012
450
2011
543
2010
408
2009
312
2008
360
2007
409
2006
349
2005
361
2004
265
2003
251
Web Counters
Website Visitors
Since
July 1, 2007

Visitors Today
Apr 08, 2020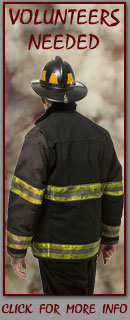 The Oakland Fire Department - volunteering for our Community for over 105 years.
---
---
Saturday Evening MVA

Firefighter Patrick Kellett, February 23

On February 22, 2020 at 6:31 PM Oakland Fire, Police and EMS were dispatched to Ramapo Valley Road between Court House Place and Franklin Avenue for a reported motor vehicle accident in the northbound lanes of Ramapo Valley Road.

Upon the arrival of fire and police units they confirmed a two vehicle accident with one vehicle on its side. The occupants of both vehicles were located outside their respective ... (Full Story & Photos)

One Car MVA with Rollover

Firefighter Patrick Kellett, February 10

On February 10, 2020 at approximately 2:10 pm. Oakland Police, Fire and First Aid were dispatched to the intersection of Thornton Road and Wright Way on a reported motor vehicle accident with entrapment.

Upon the arrival of Oakland police, they confirmed a one vehicle involved accident with the vehicle off the road and on its side, however the occupant was able to self extricate and was later ... (Full Story & Photos)



This takes just a few minutes

HELP US HELP YOU...PLEASE SHOVEL OUT YOUR HYDRANT

Ex Chief Robert Knapp, January 18

DURING WINTER MONTHS...

Please remember to clear and shovel out hydrants in front of your home, apartment or business. This greatly helps fire-fighting operations during inclement winter weather. If you are unable to clear a hydrant due to physical limitations, please notify the Oakland Borough ordinance dictates that the property owner is responsible to clear hydrants on their property. see below.
During ... (Full Story & Photos)


MVA with Overturned Vehicle

Firefighter Patrick Kellett, January 10

On January 9, 2020 at approximately 1748 hours Oakland Communications received a 911 call reporting a motor vehicle accident with overturned vehicle and possible entrapment at the intersection of Pawnee Avenue and Iroquois Avenue.

Upon the arrival of Oakland police, officers confirmed one vehicle was on its roof with three occupants still seat-belted in the vehicle. With the assistance of the police ... (Full Story & Photos)

Christmas Morning Mutual Aid

Firefighter Patrick Kellett, January 01

While most were sleeping awaiting the arrival of Santa, a handful of your Oakland neighbors were called to assist another community.

At 5:11 am on Christmas morning, the Oakland Volunteer Fire Department responded to Arzee Building Supply Center in Mahwah to assist in extinguishing the 5 alarm fire.

Company 1 members responded on Truck 1041 and Company 2 members responded on Engine 1034. Upon ... (Full Story & Photos)

Is your house number displayed properly?

Ex Chief Robert Knapp, December 27

Is your House Number Visible and Displayed Correctly????
Think of this scenario, there's an emergency at your house. You dial 911 and speak to the dispatcher. However, it seems like it's taking a long time for help to arrive.
Meanwhile, Fire and police have arrived on your street but they're having problems finding your house.The house doesn't have any easily identifiable numbers on it and the mailbox ... (Full Story)




Your feedback is important to us! Feel free to sign the guestbook.

Website Designed and Hosted By
Content Maintained By
Contact Info

www.FirehouseSolutions.com


Oakland Fire Department
25 Yawpo Ave
Oakland, NJ 07436


Emergency Dial 911
Station: (201) 337-5691
Station Fax: (201) 337-1638
E-mail: info@oaklandfd.org

| | |
| --- | --- |
| | Copyright © 2020 Firehouse Solutions (A Service of Technology Reflections, Inc.) |